Guide to Collecting: Argo
Argo is not as well known as the main English companies (Decca, HMV, Columbia etc) but deserves to be better known by collectors of classical music on LP. There are many superb recordings on Argo, and it's a label well worth exploring. Except for a few famous recordings they are not expensive.
Argo was founded as an independent label in 1951, and was acquired by English Decca in 1957, but continued to be directed independently. As well as classical music recordings they issued field recordings of traditional world music and a great number of Spoken Word recordings, including the complete works of Shakespeare, recordings of great poets reading their own works, and Dylan Thomas's Under Milk Wood.
Their classical music recordings were wide-ranging, with particular emphasis on British composers and on Choral Music. Mono recordings have the prefix RG, and very occasionally I have come across an LP pressed in the pre-Decca era. In 1959 they started issuing stereo recordings with the prefix ZRG. These were all pressed by Decca, and have the same superb sound as the contemporary SXLs. A few recordings were issued with the prefix ZNF, the most famous of these is ZNF1, Benjamin Britten's Noyes Fludde.
Stereo Argo ZRG
The earliest issues, from 1959 to 1967, have 4 digits, all starting with 5. The label has the "argo" logo in a silver oval, on dark green, and they are all groove pressings. These are large labels, about 10cm diameter (4"). The ZNF labels are identical except they are silver on black.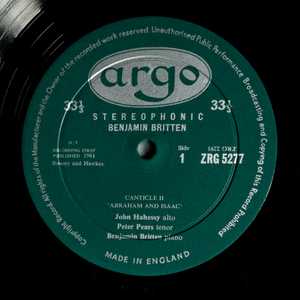 From 1967 onwards the ZRG numbers have 3 digits, the earliest starting with 5, such as the prized ZRG 506, Rossini String Sonatas. and reaching ZRG 9-- in the early 1980s. The earliest still have the groove pressing as above. The last groove pressing I have seen is ZRG 577, issued in 1968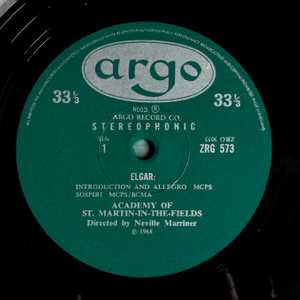 From 1968 onwards the label still has the silver oval argo logo but the label is slightly smaller - it doesn't fill the cut-out in the inner-sleeve. It's about 9cm (3.5") in diameter. And it isn't a groove pressing. This is the first label for ZRG 585 to ZRG 689, issued in 1972, which is the last oval logo label I have seen.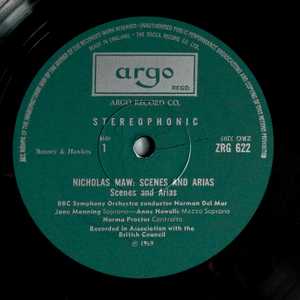 There were no more oval logo labels issued after 1972. This is the third Argo label and is the first label for ZRG 690 to ZRG 900. Instead of the silver oval logo the argo logo is in a silver rectangle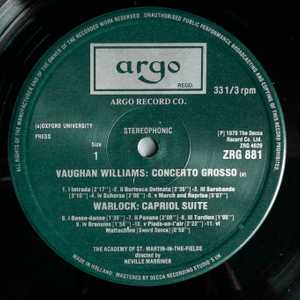 In 1979 Decca's pressing plant moved to Holland, so this is the 4th Argo label, that says Made in Holland near the bottom. This is the first label for ZRG 902 onwards.
Other Argo issues to look out for
HDNL 49-HDNV 84, Complete Haydn String Quartets
ZK series, some are re-issues, some are original mid-price recordings
ZRDL series, digital recordings from the 1980s
DA series, Golden Age of Piano Virtuosi, Superb recording made from Ampico Piano Rolls
D--D - boxed sets, such as D101D 10, Vivaldi
See all the Argo records I have in stock
Other Guide Sections