Guide to Collecting: RCA SB "Living Stereo"

If you like the Decca sound, it's well worth exploring RCA's SB series. Up until the mid 1970s, all UK RCA issues were pressed by Decca. They were recorded in the United States, where they were issued on LSC, and copies of the master tapes were sent to Decca. There are two SB series, the SB 2100 series and the SB 6000 series.
RCA SB Series
Silver/red
The first SB 2000, issued in 1958, was SB 2001, Mussorgsky conducted Reiner, the last one that I know of was SB 2156, issued in 1962, a recital by Anna Moffo. The original label for all of these SB 2000 series is original silver/red label, and they are all groove -pressings, like Decca SXLs. You can find many superb recordings, by Heifetz, Reiner, Martinon, Munch, Szeryng, Rubinstein for example, in the SB 2000 series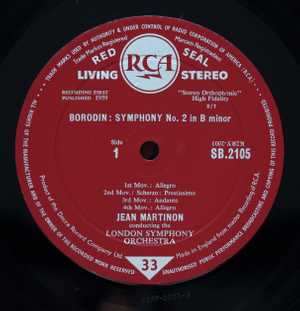 In 1962 RCA/Decca changed to SB 6000 series, starting with SB 6500, and continued with the silver/red label. The last silver/red label that I know of is SB 6558, though there are lower numbers where there is no silver/red label, such as SB 6548, Reiner conducting Beethoven, with Cliburn.
See all the SB silver/red LPs I have in stock
Red label/black spot
The next label is the one I call "red label/black spot". Some people call this the orange label. The highest number I've seen with this label is SB 6786, though as usual there are lower numbers where I've never seen this label.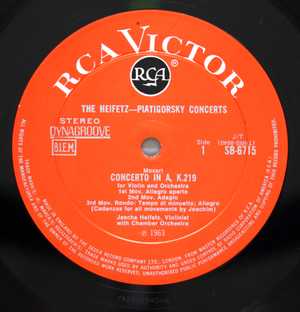 Most of the records, but not all of the records with this label also can have groove pressings, so except for the highest numbers, the earliest pressing is a groove pressing, and if there's no groove (like an ED3 SXL) it's a slightly later pressing
See all the SB red label/black spot LPs I have in stock
Smaller red label
Then RCA moved on to a smaller red label. Some of these are still Decca pressings, such as SB 6813.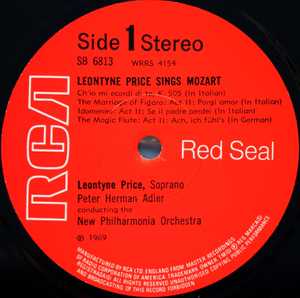 Now things get more difficult! How can you tell that this is a Decca pressing, rather than RCA's own 1970s pressing? Firstly the "small red label" is 9 cm in diameter. You can usually see some black vinyl round the label when you look at the cut-out in the inner sleeve. The RCA label is 10 cm in diameter and usually fills the cut-out in the inner sleeve. But there's more. Now you need to look at the matrices stamped on the vinyl. There's a very distinctive "Decca style" to the matrices stamped by Decca. They have crisply cut capitals and numbers, that look like print, and they are in a straight line.
This is what an SXL matrix looks like:

This is a small label RCA matrix:

The last two SB small label Decca pressing that I know of are SB 6837 and SB 6874. I have never seen a Decca pressing of the numbers between SB 6837 and SB 6874, or of any higher numbers. So at some point during 1970 RCA started using their own UK pressing plant.
Which RCA SB label should you buy?
The original silver/red labels have superb sound. But you can still get superb sound from the generally cheaper red label/black spot. As with SXL & ASD, the second label, whether it's original or not, can be very good value with little or no deterioration in sound quality. With the small label, if it's original, you've still got good sound. But I have at times been disappointed with the sound, when the small label is the third label, as the original issue was silver/red.
Having told you all about the Decca pressings, I must add that I have many later RCA pressings in my own collection. Though they don't have that magic "golden era" sound, the sound is very acceptable.
RCA SER Series
SER labels are the same as SB labels. The SER prefix was used by RCA in the UK for all records that included a libretto or similar insert. Most of them are opera boxed sets or recitals by singers, though the SER prefix is also used for other boxed sets, such as Heifetz's mono recording of the Bach Sonatas and Partitas, on SER 5669/71, and Rubinstein's complete stereo Chopin recordings on SER 5692.
They have the same excellent sound quality as the SB series.
See all the RCA SER LPs I have in stock
Other Guide sections