Guide to Collecting - Philips
Philips was a Dutch company which entered the British market with classical records in 1954 when they acquired the British agency for American Columbia recordings. Their best known mono series is the ABL 3000 series issued between 1954 and 1961. These were pressed in England, and called "Minigroove" records.
Philips SABL series
This is the first Philips stereo label. These were issued between 1959 and 1962
The first SABL was SABL 100, Brahms Fourth Symphony conducted by Van Beinum, the last was SABL 218/20, Wagner Flying Dutchman conducted by Sawallisch.
Hi-Fi Stereo label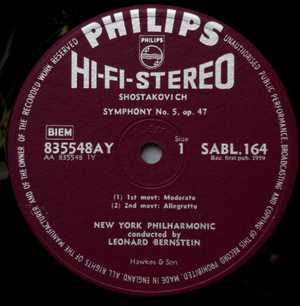 SABLs with this Hi-Fi Stereo label are much prized. They have the same curved Hi-Fi Stereo logo on the sleeve.
Plum label SABLs without the curved logo generally command a lower price. But I believe that many of them are earlier pressings than than those with the Hi-Fi Stereo label. The early plum labels are very similar to the mono labels from the late 1950s. They have a slightly rough surface when you touch the label. The late plum labels have a smooth surface, and they are certainly pressed later than the Hi Fi Stereo label.
You can also find Hi-Fi-Stereo labels on Philips 835 --- AY series, pressed in Holland. As you can see above and below, SABLs also carry the Dutch 835 numbers, as do the Hi-Fi-Stereo SALs.
| Early plum label | Late 1950s mono label |
| --- | --- |
| | |
Philips SAL series
In 1963 Philips started issuing the SAL series, starting with SAL 3415. Fistoulari conducting Sleeping Beauty. To start with they used a Hi-Fi Stereo label, slightly different to the SABL label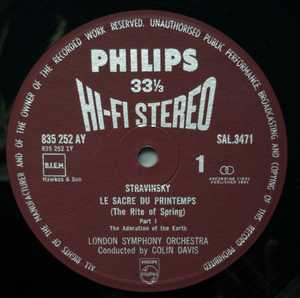 The last SAL Hi-Fi Stereo label I have seen is SAL 3504, issued in 1964
The next SAL label is also silver on plum, with a smooth surface, so for most SALs the plum label is the first label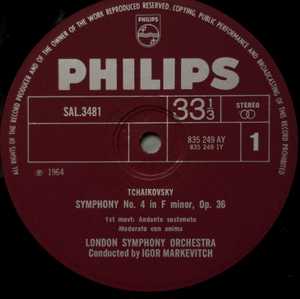 The last SAL issued, SAL 3804, was in 1970.
Philips 6500 and 9500 series
From 1969 to 1976 Philips issued recordings with the 6500 prefix. There are many wonderful artists in the 6500 series, such as Accardo, Arrau, Grumiaux, Szeryng. Their label is silver on red.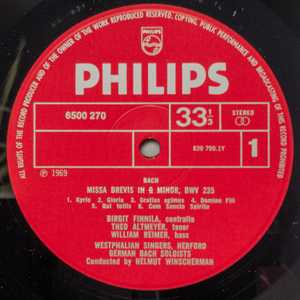 Some 6500 series were pressed in England and some were pressed in Holland. Some say "Made in England" on the label. Some say "Made in Holland", and some say nothing about where they were pressed. The general opinion on the ones that say nothing is that they were pressed in England. Some collectors prefer the ones that say "Made in Holland", saying they have better sound. The ones that say "Made in Holland" have a raised rim under the outer edge of the label, like this 9500 label: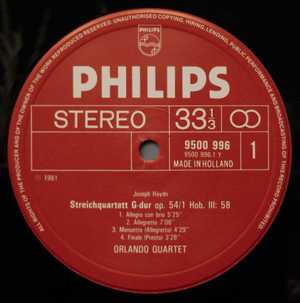 But many of the ones that say "Made in England" also have the raised rim.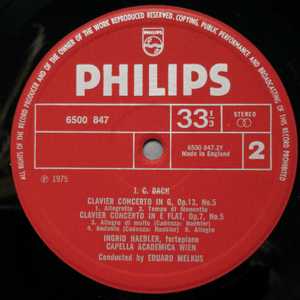 I find this very puzzling, as this looks just like the "Made in Holland" pressings - and to my ear they sound like Dutch pressings. I wonder is Philips had two pressing plants in England, one of which was an identical pressing plant to the one used in Holland. It is interesting to compare these pressings with the ones Philips pressed for Decca SXLs from 1979 onwards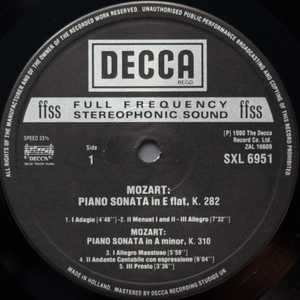 From 1976 Philips full price label used the prefix 9500. Some of these have the same silver/red label as the 6500 series, some have a white on red label like 9500 996 above. Again, some are English pressings, while some are Dutch pressings.
There are lots more Philips prefixes, many beginning 65, some of these will have originally been lower priced issues. Then there's boxed sets, often starting with 67, like sets of Quartetto Italiano recordings.
Philips ABL mono
There are also many splendid mono Philips recordings. There are various Philips mono labels.
This is one of the earlier ABL labels: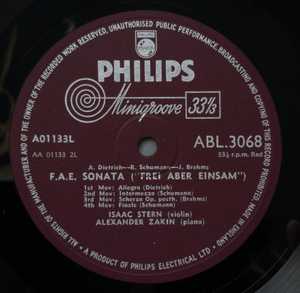 This one is found on some later ABL issues: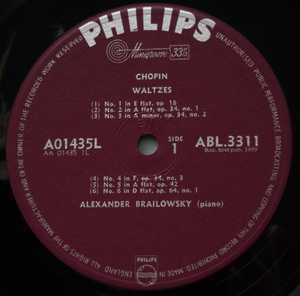 ABL 3311
The last ABL label: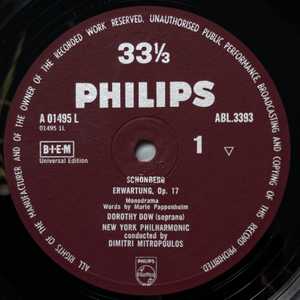 Other mono labels, harder to find, are Philips NBL and 10" ABR and NBR
See all the Philips records I have in stock
Other Guide sections